Publisher & Developer
COWCAT (Breton Fabrice)
Based in Saint Etienne, France

EMBARGO for videos & reviews

Release date

PC: August 26th, 2022
Consoles: March 1st, 2023
Platforms

PC, Mac, Linux (Steam, GOG, itch.io)
PS4™ & PS5™ (cross-buy)
Xbox One
Xbox Series X|S
Nintendo Switch™
Links

Subtitles

English
French
German
Spanish
Italian
Russian
Polish
Brazilian Portuguese
Simplified Chinese
Traditional Chinese
Japanese
Regular Price
USD $24.99
EUR 24.99 €

Age rating
ESRB: T (Violence)
PEGI: 12 (Mild Swearing)


Feel free to post videos of the game - no permission required!


Reviewer? Streamer?
Request a review key of BROK

BROK the InvestiGator, the very first "Punch & Click!"
What kind of detective will you be?

Narrative-driven adventure game that blends action and investigation in never-before-seen ways. Will you use your brain... or your brawn?

In a futuristic "light cyberpunk" world where animals have replaced humans, privileged citizens live under a protective dome from the ambient air pollution while others struggle to make a living on the outside.

Brok, a private detective and former boxer, lives with Graff, the son of his deceased wife. Although he could never elucidate her accident, recent events may shed some light on an even more tragic outcome... one that may be linked to their own existence.

Will they be able to withstand the threats of this corrupted world and face their own destiny?

A deep and emotional narrative-rich experience filled with characters reminiscent of classic 80s/90s cartoons. The first game to combine a "Classic Adventure" with "Beat'em up" and RPG elements!
Solve puzzles with your wits... or muscles!
Make choices impacting gameplay and/or story
Easy mode for pure "Point & Click" gameplay (fights can be skipped)
Level up to beat enemies and bosses
Combine clues to uncover the truth!
In-game hints
All controls supported (mouse, keyboard or controller)
Two playable characters, switch at any time
15 to 20 hours long on first playthrough
Multiple distinct endings to unlock
Text fully translated into 10 languages
Full english voice acting (23,000 lines)
Local co-op adventure supported (up to 4 players)

Embark on this Gatorific adventure with your friends!
Now featuring a local co-op mode up to 4 players, this update is available across all platforms (PC, PS4™, PS5™, Xbox, and Nintendo Switch™). Co-op players can:
Engage in fights
Earn experience and level up
Investigate surroundings
Collect hidden "shadow ads"
Purchase food and hints
Express reactions with sounds and emojis
Access 6 playable characters
Online co-op supported via Steam Remote Play Together and PlayStation Share Play (requiring only one game copy)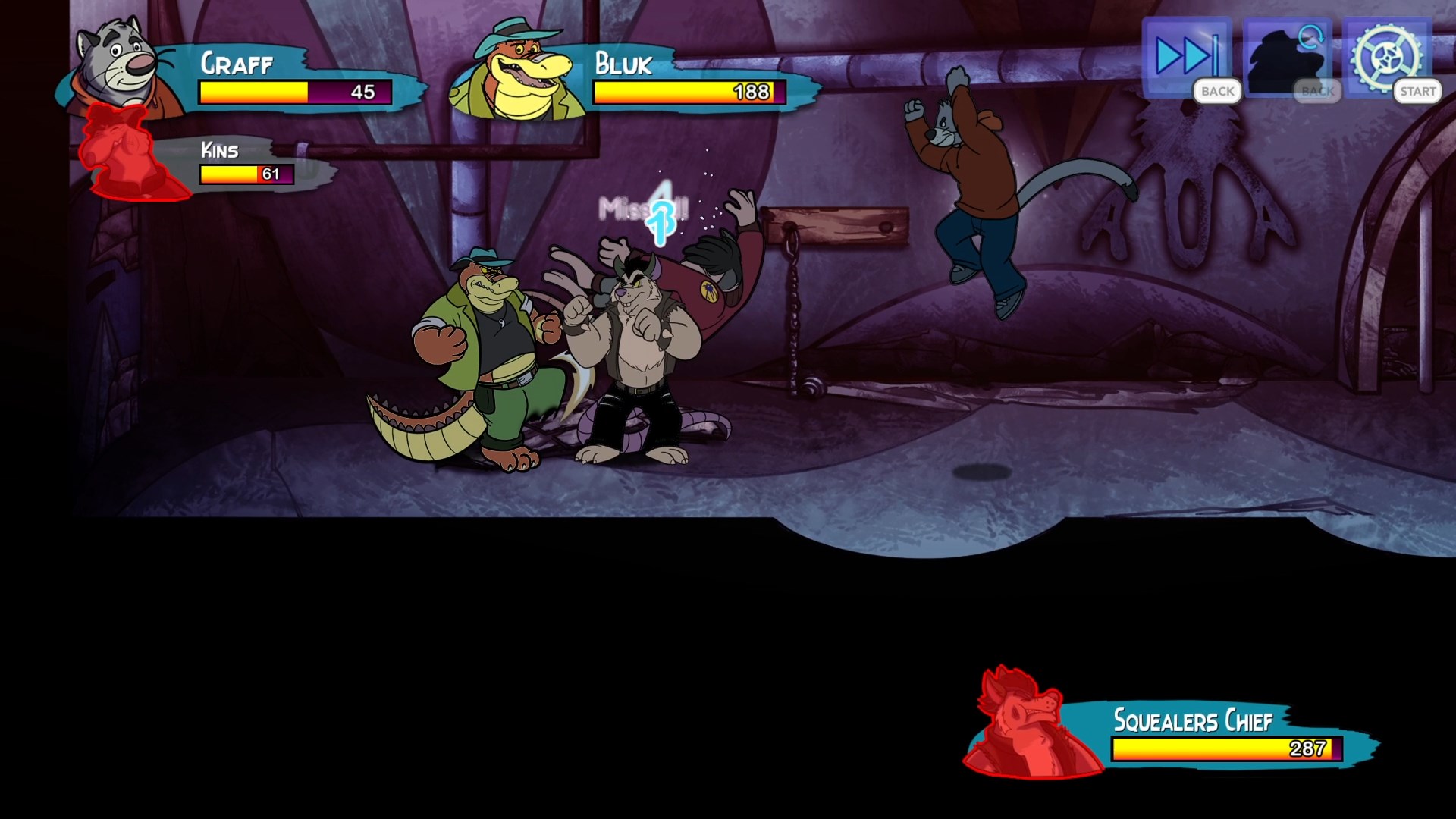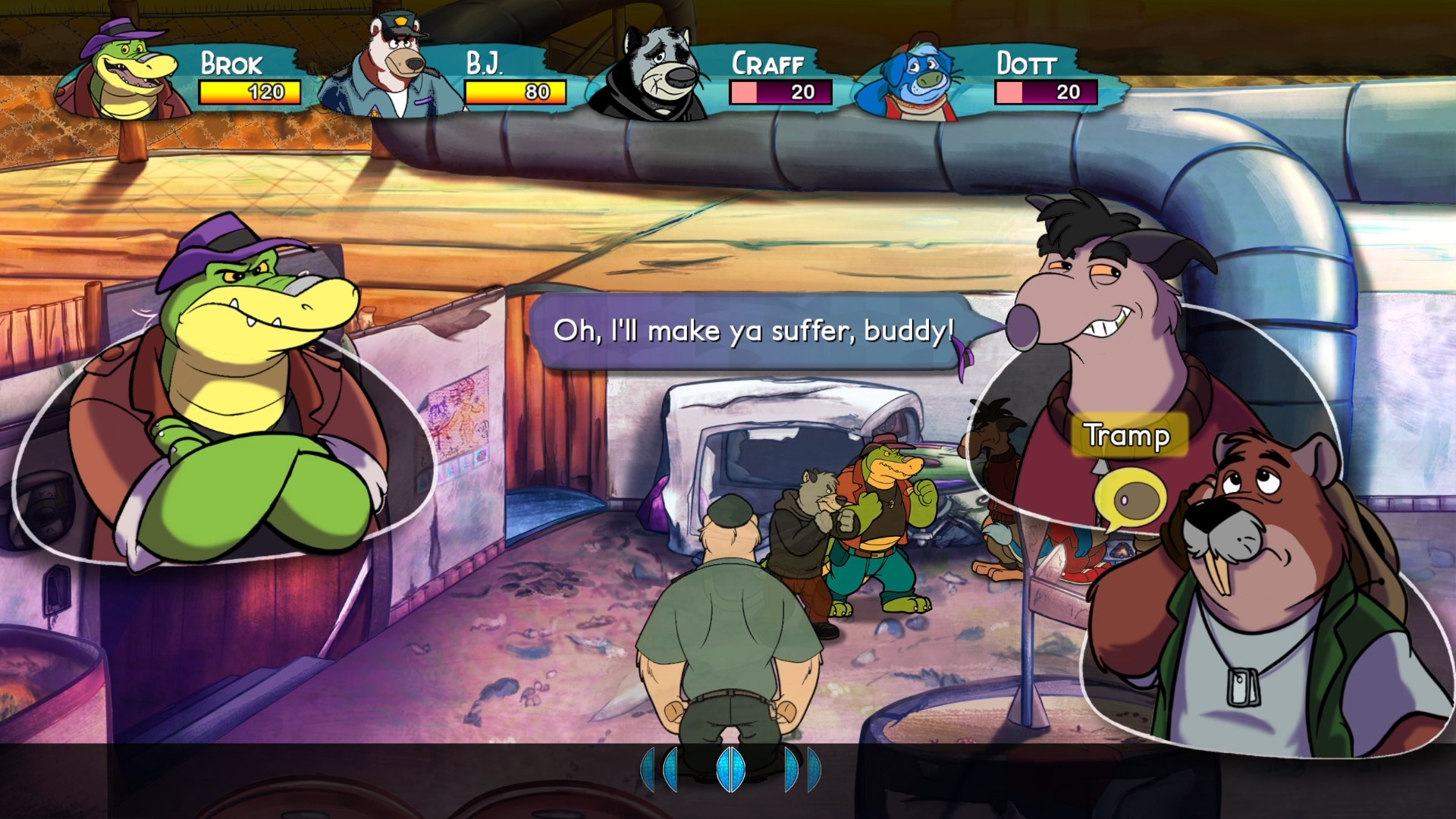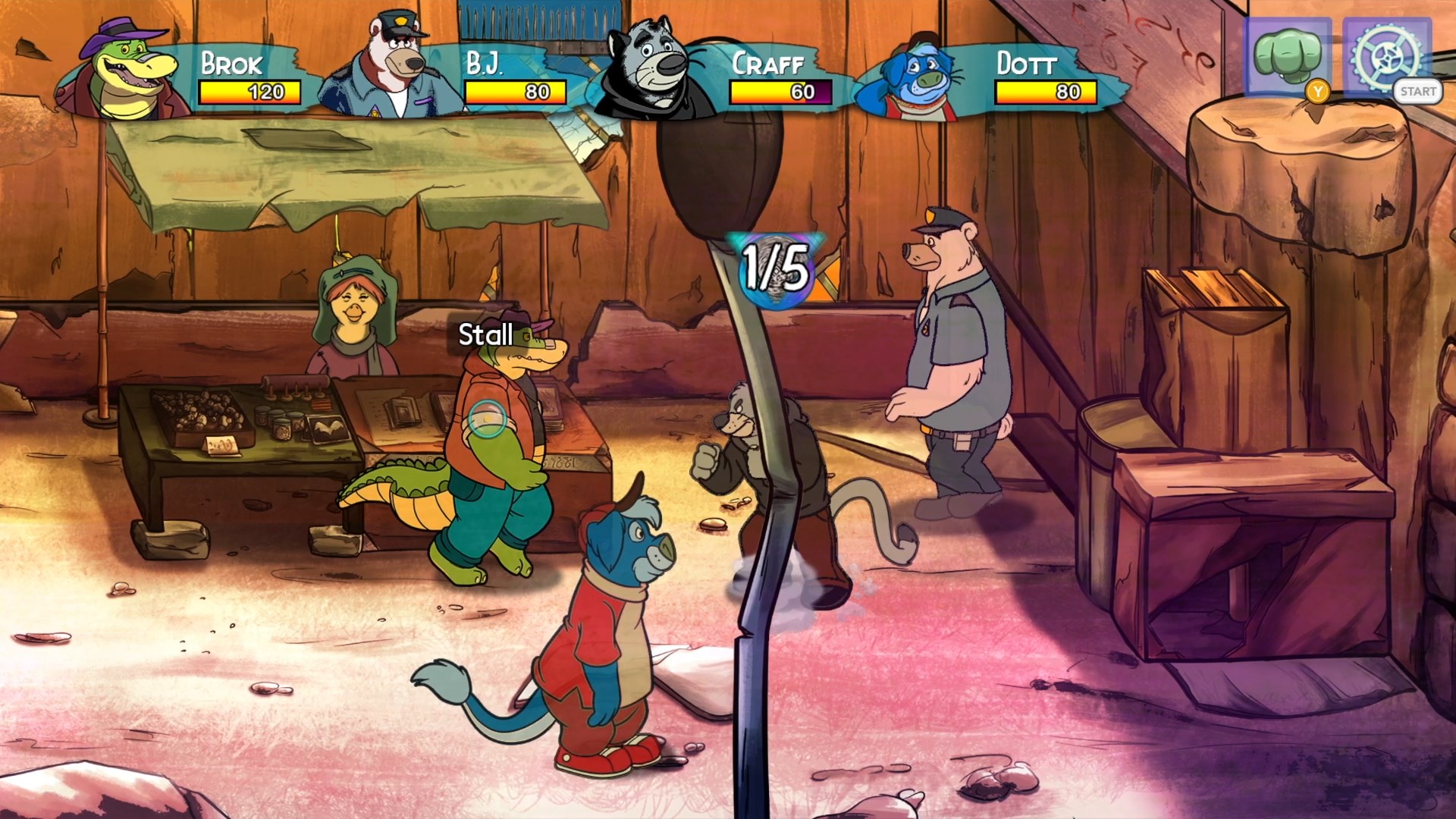 Exclusive edition with Red Art Games
In addition to the custom-made PC physical (see the merchandise page), a console physical is available at the Red Art Games website!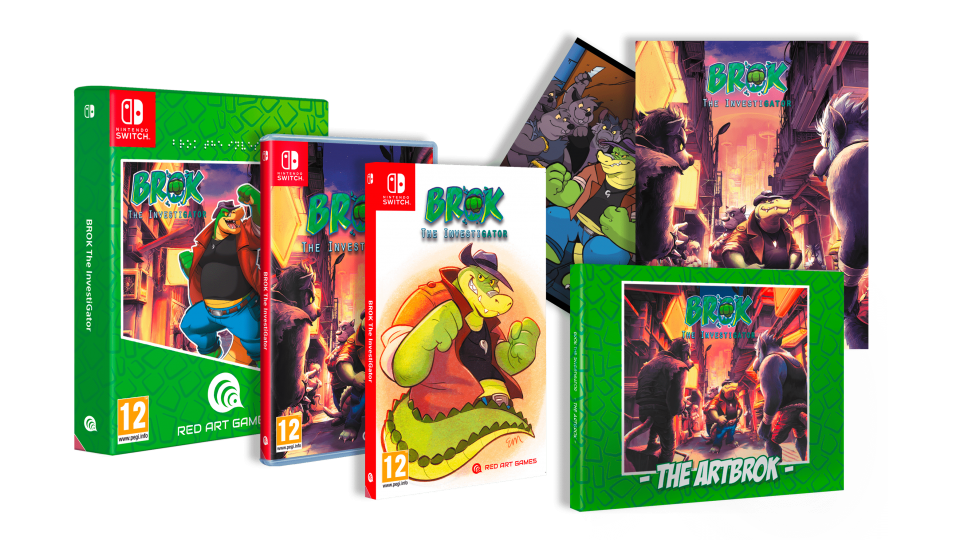 This limited run edition, accessible for PS4™, PS5™, and Nintendo Switch™, includes exclusive extras like an artbook, sleeves, poster, and reversible cover art. The physical version will comprise the co-op update along with existing features, including comprehensive accessibility for blind players. Its release is scheduled for Q2 2024.

BROK the InvestiGator is the first full-fledged classic adventure game that blind players can fully play through!
Fully narrated via quality text-to-speech and audiodescriptions (characters, locations and scenes.)
Puzzles adapted for blindness.
All puzzles and fights can be skipped.
Adapted tutorials.
Buttons to repeat the last voice speech and instructions.
Positional audio for fights.
No online connectivity required (after the download).
No specific device required: play with keyboard or a controller.
Additional options: larger fonts and increased contrast (backgrounds and enemies.)
Compatible with all versions of the game (Steam, GOG, PS4™, PS5™, Nintendo Switch™ and Xbox)
More info:
Accessibility page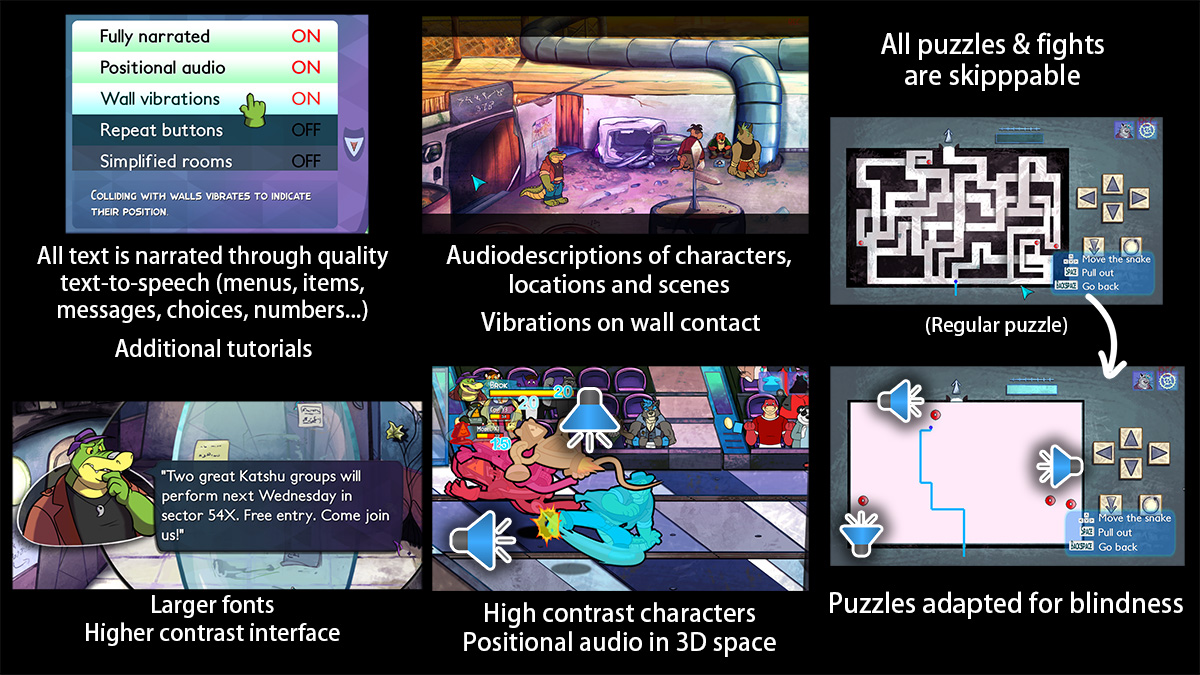 In addition to general improvements and bug fixing, combat has been vastly improved for more dynamic fights.
See a list of changes below that the consoles version will benefit from day one!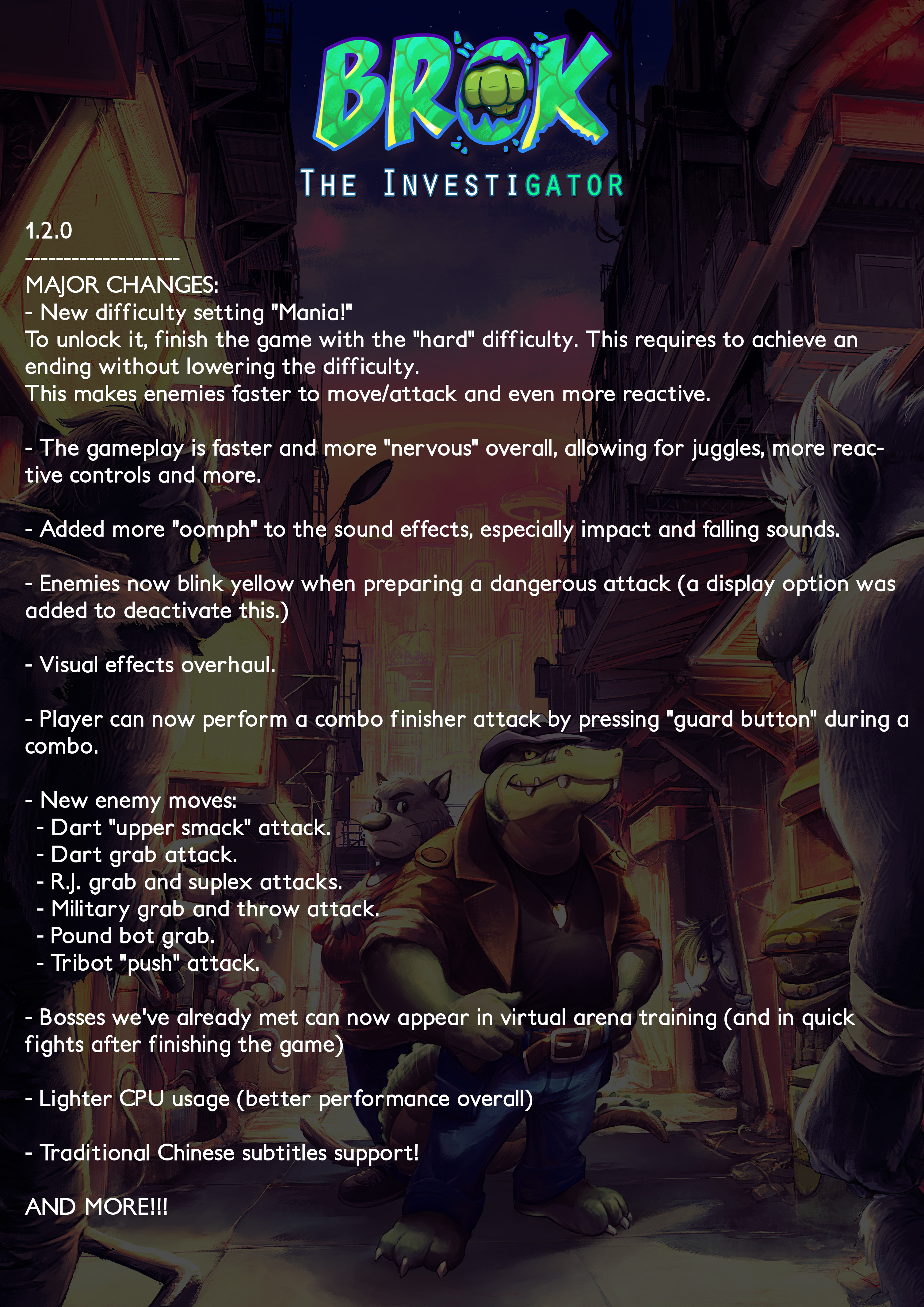 The character design and some plot elements are inspired by cartoons from the early 90's, in particular The Disney Afternoon.


By the way - Jymn Magon, co-creator/writer of TaleSpin, Ducktales, Gummi Bears, A Goofy Movie... edited my first script!


I'm doing most of the work myself : game design, writing, programming, inking/coloring/shading characters, drawing/painting backgrounds...


However several artists helped with character design / animation and did most of the characters sketches, plus one music composer, a lot of translators, and of course, many talented voice actors! (see list below)


Brok is developed with GameMaker Studio 2.



Creator / Main developer : Breton Fabrice
Soundtrack : PythonBlue
Character designs : Kresblain, GlassesGator, Monika Rider
Cover art : Danilo do B
Accessibility : Tomas 'Lirin' Tworek
Voice actors :
Brok : Bryan Olson
Graff : Michael Kovach
Ott : Lee Foster
Shay : Daisy Guevara
Sin : Philip Sacramento
Rat chief : Joseph Wilson
Kins/Dart/Rats : Joshua Cookingham
Wes : John Van Doren
Klay : Brandon Jenkins
Dee : Erin Lillis
R.J. : Michael Kovach
Guard : Michael Kovach
Tramp : Matthew Simmons
Hacker : Edwyn Tiong
Director : Melissa Medina
Bolt : Mike Varker
Mink : Austin Schmidt
Flower merchant : Ginger Sue
Dr. Gherkin : Anthony Ray Morales
Tribots : Philip Sacramento

I'm a French solo developer who develops for PC and consoles. I've released the adventure game Demetrios - The BIG Cynical Adventure in 2016.

Also publishes and ports games from spanish developer "Diabolical Mind" on consoles (Xenon Valkyrie+, Riddled Corpses EX, Demon's Tier+)

contact@cowcatgames.com

Check out my other games on www.cowcatgames.com